Tooth loss can have a profound effect on a patient's quality of life; it can diminish the appearance of a smile, increase the risk of infection, and make it painful to chew or speak normally. Replacing missing teeth is therefore an important part of maintaining good oral health and daily comfort. While there are many options for treating tooth loss, the most comprehensive and long-lasting solution is dental implants.
Dental implants are considered by many to be the strongest and most comfortable option for replacing missing teeth. Implants are small titanium posts that are strategically placed in the jaw to add strength to the jawbone and act as a replacement for a tooth's natural root. Once placed in the mouth, these titanium posts fuse with the remaining jaw bone to provide a durable anchor for synthetic teeth. Dental implants can be used to replace a single tooth or several teeth and can effectively restore the appearance and function of the mouth.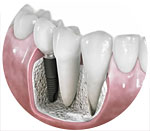 When it comes to replacing missing teeth, implant dentistry offers unmatched strength, comfort, and aesthetics. Some of the benefits of dental implants include:
Long-lasting – dental implants rarely need to be replaced.
Allows patients to chew and speak comfortably
Restores beauty to the smile
Prevents deterioration of the jaw bone following tooth loss
Prevents jaw misalignment and shifting of remaining teeth
Preserves facial structure
Comfortable, more durable alternative to tooth-supported dentures or bridges
Bio-compatible
Made of titanium
Restore proper chewing and the full strength of your bite
Never decays
Esthetic
It is important to use the best materials for you implants for best results and so they will last the longest.  Our office utilizes Nobel Biocare, 3i, and Implant Direct products.